Data Guardian also offers permanent and temporary storage services for your business assets, products, or job materials. Our 27,000 sq. ft. standalone storage center is perfectly suited for your commercial storage needs.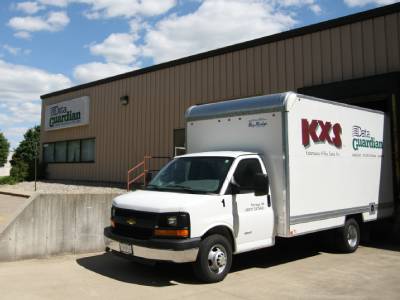 Variety of Receiving Options: Three docks and ramp access with on-site fork truck to be able to handle materials of all sizes.
Secure Facility: 24/7 secure, employee-only building access via individually coded/badged access, security alarm system, security lighting, and CCTV recordings.
Environmental Control: Climate controlled with sprinkler system.
Asset Trasking: Barcoded asset tracking available with optional web portal access to always know what you have in storage.
Simple Pricing: Per cubic foot pricing, so you're only paying for the space you need.
Shipping Support: Logistics support available for shipping & receiving your items.
Receiving Support: You can have your assets/products shipping directly to us, so there is no need for you to handle your assets/products twice with dock receipt services; ship to our dock and pick up there when you are ready.*
Do you have other storage or logistics needs? Contact us to see how we can support your needs.
*8:30 am through 5:00 pm Monday - Friday (holidays excluded)